Friday, February 25, 2005
Take the quiz:
"what kind of drug are you? (includes pictures)"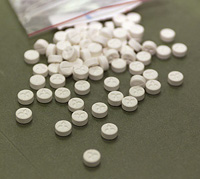 xtc.
you are xtc.amazing, wild, sexy and young.
Monday, February 14, 2005
"Time flies my friend, time flies...", ungkap si jenius Hercule Poirot pada sahabatnya Captain Arthur Hastings. Dan ternyata kalimat itu benar sekali. Rasanya baru saja berlalu segala catatan yang gw toreh di lembar ini setahun yang lalu. Ternyata kali ini semua sudah kembali hadir, tentunya dengan spirit yang sangat berbeda. Setahun yang lalu, valentine juga, ucok menikah. kemudian imlek. Kini semua sudah kembali lewat.

Beberapa hari terakhir ini gw lewati dengan kemurungan. Gw menjuluki hari-hari terakhir ini sebagai the downfall. Tetapi semua sudah berakhir. Gw sudah membulatkan tekad bahwa hari ini adalah deadline-nya. Hari ini adalah hari kejatuhan yang penghabisan dan esok semua akan langsung berubah. Ewink Resurrection; everything will be counted adalah panji-panji yang akan gw kibarkan beberapa hari ke depan. Semoga semua akan berjalan dengan lancar dan mulus. Dan gw akan kembali berjaya, karena hidup akan terus berlangsung hingga saatnya tiba...

Dan mungkin bila nanti
Kita kan bertemu lagi
Satu pintaku jangan kau coba tanyakan kembali
Rasa yang kutinggalmati
Seperti hari kemarin
Saat semua di sini...

(Mungkin Nanti, Peterpan)
Wednesday, February 09, 2005
Setelah 19 bulan yang panjang, akhirnya gw kembali ke Bandung membawa rindu dendam yang telah berkerak. Bahkan sejak memasuki jalan tol Padaleunyi, gw sudah mules-mules seperti orang suggest sebelum n*****t.
Sayang di Bandung hanya sebentar saja, karena maspion. Tetapi setidaknya sekarang gw punya alasan baru untuk sering ke Bandung. Tetapi meskipun gw tidak mampu ke Bandung, ibarat kisah finding neverland, sayap-sayap imaji akan menerbangkan gw ke Bandung. Bukankah gw sukmolelono???